As most people have a smartphone these days, you can accept dance class applications online with a dance class registration form created with the online form builder instead of accepting registrations manually. Here's a sample form created with Formsbook: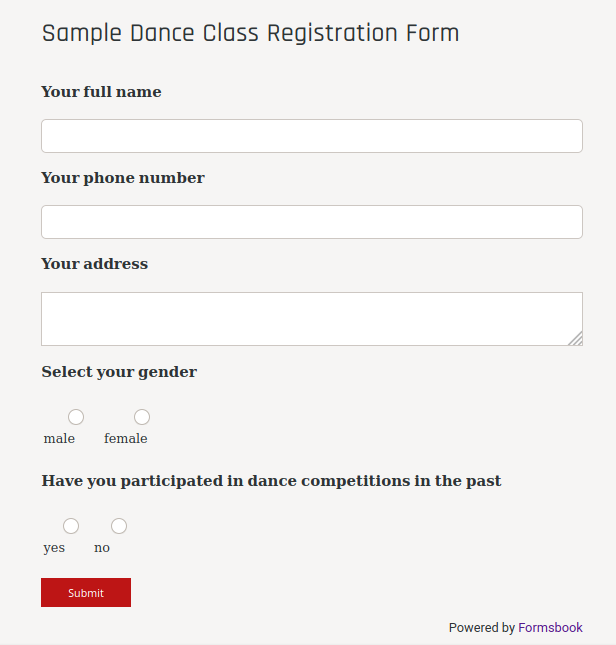 The sample dance school registration form (demo URL) you see in the above image accepts the full name, phone number, address, gender of the user. It also has the option to select "yes" if the user has participated in dance competitions In the past.
When your dance school registration form (like the one we've created) is ready, share its URL with people who have expressed an interest in joining your school. When people fill & submit your form, you can log in to your FomsBook account to see the list of applications. If you accept people specific people or students with some experience in dancing, you can filter the users with FormsBook. For example, in the case of our sample form, if you want to accept only those users that have participated in dance competitions, you should select the condition "You have participated in the dance competitions in the past" and enter the word "yes" in the text box beside it. When you do so, FormsBook will immediately show the list of users who have been a part of dance competitions in the past.
Why use FormsBook? It is easy to accept registrations with form. Another good reason to use FormsBook is that if you participate in shows and you have a good team of dancers, you can make good money. Suppose a good dancer applies to your class by filling the form you've created with FormsBook.com, and if you don't enroll him in your academy/school/institute in time, he/she may join another school/academy. When a dance academy registration form created with FormsBook is filled and submitted, FormsBook will send an email to the email ID of the form creator immediately.