Hospitals/doctors accept appointments made via telephone or the patient himself visits the clinic/hospital and books an appointment. A better way of accepting appointments is to create a form and share its link on a website, Facebook page/group, Twitter, WhatsApp, etc. Doctors don't have to waste time learning HTML, CSS, Or hiring someone to create a simple appointment form. With FormsBook, you can create a doctor appointment form with FormsBook with just a few clicks of a button and start accepting appointments. The following doctor appointment form (demo URL) was created with the free form builder – FormsBook.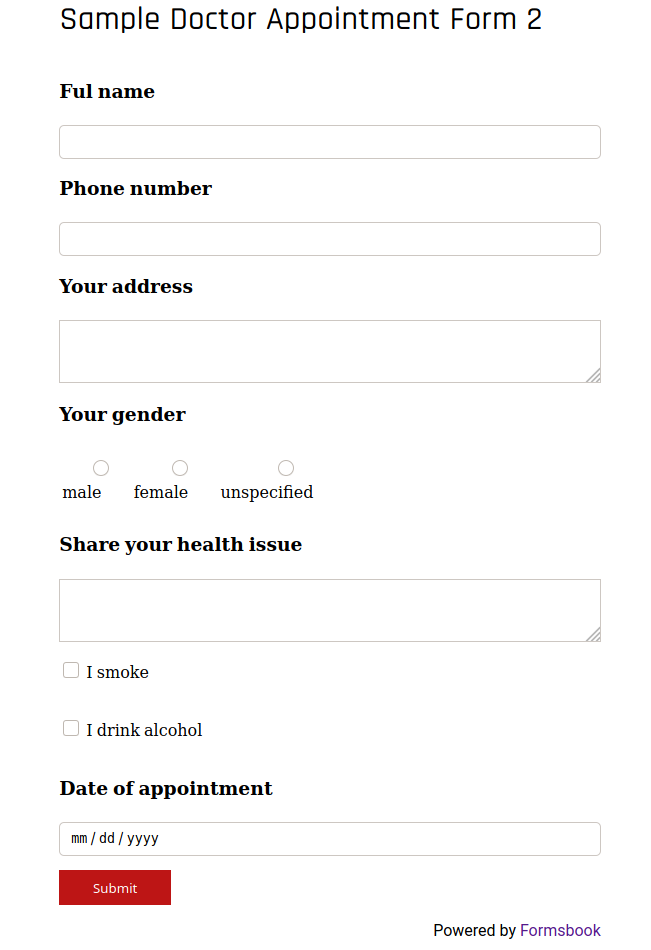 As you can see in the above image, the form accepts the following details for the users:
Full name.
Phone number.
Address.
Gender
The form also has the textbox where the user must enter the health issue he or she is currently facing, a date field, and two checkboxes to make the doctor aware that the person is an alcoholic or smoker. The user must choose the date on which he wants to meet the doctor. FormsBook will send an email to the email address of the form creator/owner whenever a patient fills and submits the form. You can create a similar/different form for free with fields of your choice. When you save the form, click the "design" link to see the doctor appointment form's shareable link.
The receptionist or the doctor should log in to FormsBook to see the list of appointments. In addition to displaying the list of appointments, FormsBook also enables you to filter the data by the patient. For example, if a hospital has created the form with fields such as specialty/area or region of pain, the hospital can filter data by specialty. In the case of our form, the doctor can filter patients who smoke, drink alcohol, or see the list of appointments on a given date.